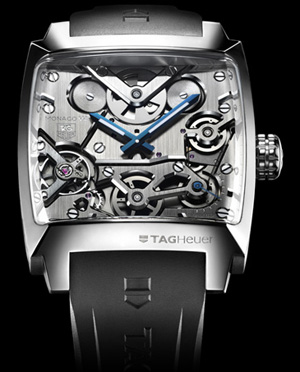 They said it couldn't be done, and that it would never make its way to market...It's always fun to prove people wrong.
Tag Heuer
announced that their seemingly perpetual prototype watch, the Monaco V4, will finally enter a limited production of 150 pieces and become available for sale to the public this coming November. Watch enthusiasts have been reading about the Monaco V4 since 2004 with many doubting that Tag Heuer would be able to pull off the bold design. The announcement was made by Tag Heuer at the 2009 Only Watch Charity Auction.
So, what's the big deal? The Monaco V4 will be the worlds first belt driven watch with a linear automatic winding system. This is a first for mechanical watches which are typically run by a series of gear trains, wheels, and pinions and are either wound manually or with a rotor attached to the movement which rotates freely. Think of the V4 as having a literal micro-engine that has a tungsten piston to generate power. Tag Heuer has won two patents for its design over the past 5 years. What a perfect way to honor the Monaco's storied racing legacy. The original Monaco became wildly popular when
worn by Steve McQueen in the 1971 film "Le Mans"
. Since then Tag Heuer and auto racing seemed to go hand in hand, including becoming the official timer for F1 races. Tag Heuer still incorporates McQueen's image to promote the Monaco line.
The linear winding block [center] and quad barrels in V formation
Taking cues from the
original Monaco design
, which has been altered very little over the years, the V4 will have an updated case coming in at about 41mm. Boasting sapphire crystal and 3 part exhibition caseback, to show off Tag Heuer's groundbreaking movement.
Below is an official promotional film that has been making its way around the web since 2004. It shows the concept of the belt driven movement, and linear winding system. You will notice some minor design changes between the watch in the film, and the production model.
The first run of 75 will be available to the buying public this November, with a second round appearing in June of 2010. Every Monaco V4 will be hand assembled by Tag Heuer's Master Watchmaker Denis Badin.
The cost? Well, the V4 will run you a cool
$98,000.00
[About 100,000.00 Swiss Francs]
...But honestly, that's small price to pay to be one of the cool kids on your block. Economy be damned, these things are going to sell out pretty quickly. It's great to see Tag Heuer deliver on its years of anticipation.
Thanks to the
ViaLuxe Blog
for the heads up on this news!