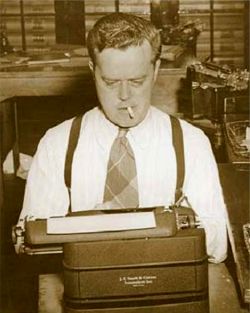 Over the past month or so I have entered into conversations with Kyle over at the
First in Watches: Perpetuelle Blog
. After some friendly back and forth He inquired if I would like to contribute some articles to his blog. After the initial shock of even being asked I happily accepted the opportunity to stretch my legs out a bit and write on Perpetuelle's behalf. I am happy to announce that my first offering for Perpetuelle has gone up
today
.
Originally launched in August of 2008,
Perpetuelle
focuses on industry news and reviews from the luxury watch market. Along with the blog Kyle has started what he refers to as a bespoke
online forum
so fans and collectors alike can keep in contact with each other sharing information, thoughts and any other watch related stuff they can think of. A new format of the forum will launch later this year, and it promises to be very user friendly, and customizable.
Fear not loyal readers...
[both of you]
...The Escapement is not going anywhere. I will still continue to write for this blog as much as possible along with contributing to Perpetuelle. You really won't notice any major differences here on The Escapement. Basically when I write an article for Perpetuelle I will post it here after it officially publishes there. I will, however, clearly state that the post was written for Perpetuelle first and all links will take you to that original post.
Any other writing I do for The Escapement will appear as it has in the past...my clever sense of humor still included free of charge
[like that humorous little quip right there]
.
To check out Perpetuelle for yourself, which I highly recommend by the way, click on their logo below.
target=blank