Recently I have been noticing some pretty bold designs coming from the
Zodiac Watch
company. Granted Zodiac is by no means a new company as it was originally founded in 1882 in Le Loce, Switzerland and have been consistently doing pretty well until about 1997 when they went bankrupt, and the company were bought by Genender International, a US company, in 1998. In 2001 Zodiac was acquired by
Fossil
as they were looking to add a Swiss brand to their line. Though now owned by American company Zodiac still offers only "Swiss Made" pieces. I'm not sure if Fossil has any input into design, or if Zodiac just had an explosion of creativity lately but they are coming out with some funky pieces that I simply cannot stop admiring. I've seen the newer Zodiacs priced any where in the $300 - $700 range, depending on the model and where you look [if you look at a department store, you are going to generally pay more...stick to reputable online sellers]. Here are just a few of my favorite designs out now from their Adventure and ZMX lines.
The Adventure - [ZO6702]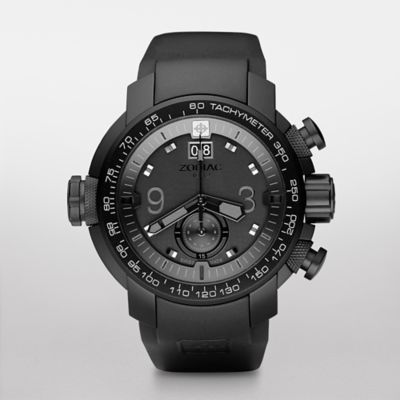 From what I hear these are all very well built solid hunks of wrist metal. It looks as though Zodiac has elected to use
Ronda
as their main movement supplier as most of their quartz pieces contain them. If Zodiac continues down this path, it was definitely a wise move for the already hugely successful Fossil to add them to their line. Be sure to check out their
website
for other variations and models.